The process of writing software for the applications that work in a device like mobile, tabs, or wearables. It is not just about writing code but also defining, designing, building, and launching a successful mobile product. People use smartphones for more than 3 hours per day. Some even exceed using it for more than 8 hours. As mobile app development services is now an important factor for today's generation, It is important to have the finest app development services for the clients to attract traffic and give them value for their time invested. DrowDigital offers application development services for their clients to meet their desired needs and potential users.
And Now is The Era Of Customized Mobile Apps for Businesses! 
With DrowDigital app development services, one can get a non-buggy app blessed with perfect UI.
DrowDigital can fabricate an app full of features and provides good customer support also, which segregates us from the market and makes our services unsurpassable.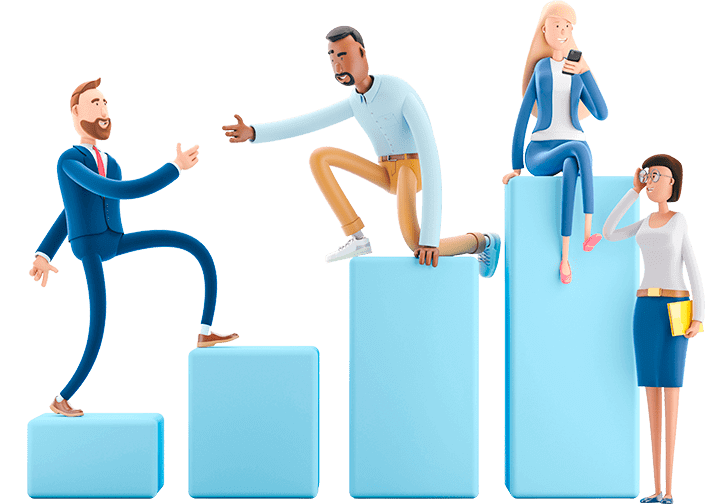 Why is it important to choose the right platform
There are two platforms- iOS and Android. IOS is an operating system for iPhone users. The applications built for that system are available in the apple store. In the Android operating system, the power is held by Google.  The applications favored by android users are available in the Google play store. Some of the applications are also built for both platforms which are called cross-platform applications. The developers resonate with the need of the users and create their apps for their use. The target audience is kept in mind who is going to utilize the application. If the app is made for the employees of a corporate office, it is important to have a survey and then speculate which kind of platform is used mostly by the majority of the employees.
App development services refer to the process of creating software applications for mobile devices like smartphones and tablets. It involves designing, developing, and testing mobile applications for various platforms such as Android and iOS. A mobile application development company near you can offer these services and provide you with the necessary expertise to bring your app idea to life. App development software is a set of tools and technologies used to create mobile applications. App development company services usually include app design, development, and maintenance. Local app developers near you can help you with the entire process of building your app, from ideation to launch. App development cloud services allow developers to create, test and deploy mobile applications in the cloud. App developers use programming languages such as Java, Swift, and Kotlin to create mobile applications. Finally, app development and game development differ in their objectives, with app development focusing on creating applications to solve specific problems, while game development focuses on creating games for entertainment purposes.
Your mobile application's monetization plans and anticipated user behavior—which may be influenced by geographical and cultural factors—are additional factors to take into account while building it.
They use tried-and-true marketing techniques and the latest technology to reach customer expectations. DrowDigital understands the need of the user that any application which is working on a computer should be easier to use in a mobile app form. Simple UX design can help in a better experience and can be intently focused on the key concepts of the app.
Types of App Development Services
WHY CHOOSE US
Types of App Development Services we Offer
Ecommerce Apps
want to get a non-buggy, well-functioning app designed for your eCommerce store? Don't worry we are here for you. We can make a perfect Ecommerce App with plenty of features that will be easy to use also.
Education Apps
So if you want to dive into the online education sector then you will need an app with all the essential features that can be fitted by us during the manufacturing of your app.
Local Business Apps
if you are a local business owner with a store and want to stand out from the competition by building an app for your customers then don't worry we know how to design an app for you.
We kept the list short but we can design and generate any kind of app. You just have to make contact with us and we will design an app with features suitable for your goal.
app functional
Why is a functional App really important ?
With a dedicated app for your business, you can benefit yourself and your firm in many aspects. Some examples of them are :
An app can create hype for your business if it's a local business.

With a well-supported app, you can handle your customers more efficiently

You can offer your services on the global market.

Young customer-base can also be targeted through a creative app
With a specially designed app for your business, you can plump yourself out from competitors
we serve
Dedication to serve the best
DrowDigital is motivated to provide the best services to its customers in every aspect.
All the apps coded by DrowDigital are :
Fully functional apps

Enriched with premium features

Stands out from other apps

Not compromised with security

User friendly

Have a great UI

Not containing any bugs

Difficult to get down

Fast and secure

Easy to manage and use
After availing of DrowDigital app development services clients don't stop praising the apps due to the quality our team offers to them.
Be a part of the digital era, design an exemplary app for your business through us and let the business thrive.
The company does not need businesses as a customer but the businesses need this company as their app developer: As said by a Past client.
testimonial
Past Client's Review
DrowDigital will provide a well-designed app with no bugs before the deadline and I guarantee everyone after seeing their product would not stop praising the film.
It was one of my best decisions of mine to avail DrowDigital app development services. They delivered the app that I wanted many times. All the premium features and the great UI makes me a fan of this app and this firm.
DrowDigital delivered me an app beyond my expectations. I never enjoyed this kind of service in any of the firms in the whole market. All of their team is supportive and open to suggestions.
our Process
Process that runs behind your back
Want to know how the team of DrowDigital designs an App?
Here is the process of how we work on building an App
  The UI:The first thing that we do is design the UI of the app in a creative way related to the customer's needs and business. 
  Code: After we are done with UI designing we head to the coding part which is the most difficult 
  Testing:After the code is ready we test the app, clear its bugs and improvise it a little bit if needed
 

Handover the product:

 so after the app is generated we deliver it to the client and request a review about it. Further, we move to improvise the app according to the client's suggestions if any.
Steps we take as a mobile Application developer
From ideation
Market validation
Persona identification
Making beautiful designs
Creating a robust development architecture
Writing code with cleanliness and compactness
Marketing plan
Join the services of DrowDigital to help yourself build the perfect application you desire. The services of our company will not leave you disappointed.
Why build an app? What are the top reasons?
By developing mobile apps, you may improve and boost sales
Enhances the client experience
Gets you to become a player in the market
Engages with the customers in a better way
Creates the channel for digital marketing
Increase in brand familiarity and awareness
The Reality Check: Why mobile apps fail
As an entrepreneur, it is important to build an app which do not go obscure. There are many apps in the market but not all of them succeed in winning the hearts of the user. The responsibility is of the developer to meet the needs of the users and make the app do wonders.
Developer's job is to scrutinize the application needs and understand what the client wants to endow through the app. They can make suggestions too if they feel it is lacking somewhere. The dos and don ts of developing an app should always be kept in mind, No matter what the perspective is, a marketing strategy and proper planning will protect the app from going unknown.
Here are the four key areas DrowDigital team avoids the failing of apps and as a result, makes "it" happen-
They have a robust mobile app strategy
They invest in breathtaking design.
They know how to execute correctly building a great mobile app
They are good at mobile app marketing.
The Foundations of the DrowDigital mobile app development approach
Step 1: Proposition for Value.
Step 2: To determine if the app is sustainable, surveying the market and enactment of SWOT analysis (Strengths, Weaknesses, Opportunities, and Threats).
Step 3:Defining your mobile app's objectives
Step 4:Draw up a list of the main app uses and ideal user types
Step 5:Understand how your app will be paid for.
Step 6:Establish the app's structure.
Step 7:Making the correct team decisions
Step 8:The product plan and specific requirements should be defined.
Step 9:Stunning mobile app designs
Step 10:Develop the application
Step 11:Your app should be tested several times.
Last step:Launch, gain knowledge and improve. Put the right supports in place.
Benefits of mobile app development services
It manages time
It is cost efficient
It ensures quality
It is reliable
Scalability
It is flexible
And it's all about how DrowDigital provides unique product and unsurpassed services to its client's.